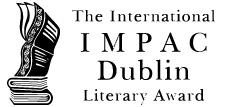 The International IMPAC Dublic Literary Award
longlist
was released last week, giving award buffs a mere seven months to read every title on the 154-book list.
The Millions
does a great job
outlining the favourites and darkhorses, as well as breaking it down by region. Over at
Like Fire
, Lisa
delves a little deeper
, moving toward a redefinition of the phrase "longlist".
The IMPAC Dublic list is an interesting one, as it is chosen by international library associations rather than critics or judges. As well, it awards books from the previous full calendar year; in 2013, books published in 2011 will be considered. It is often surprising, and rarely echoes other award winners from that year. The shortlist will be announced on April 9th, and the winner is announced on June 6th, 2013.